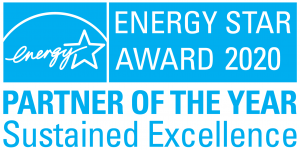 St. Paul, MN (4.1.2020) — EnergyPrint, an industry-leading utility data service provider, today announced that they have been named a 2020 ENERGY STAR Partner of the Year for the sixth straight year. The milestone also represents the fourth year in a row EnergyPrint has received the prestigious "Sustained Excellence" designation, the highest honor among ENERGY STAR partners, for their efforts above and beyond the criteria needed to qualify for the Partner of the Year award.
"This is a great honor and I am proud of the work our team has done to aid building owners and managers track their energy usage," said Matt Arneson, President of EnergyPrint. "We've been a partner with ENERGY STAR since our company began and we are privileged to continue working with them toward greater energy efficiency and savings for our clients."
"I salute the 2020 ENERGY STAR® award winners," said Anne Idsal, EPA Principal Deputy Assistant Administrator for Air and Radiation. "These leaders demonstrate how energy efficiency drives economic competitiveness in tandem with environmental protection."
Over the last year, EnergyPrint has helped over 80 new buildings apply for their first ENERGY STAR recognition, including 40 for their first certification. Over 80% of EnergyPrint clients benchmark their buildings using ENERGY STAR's Portfolio Manager tool, paving the way for greater energy efficiency, cost savings, and sustainable business practices.
In 2019, EnergyPrint also assisted with hundreds of entries and submissions for energy benchmarking ordinances across the US, including Atlanta, Boston, Chicago, Los Angeles, Minneapolis, Seattle and the District of Columbia, among others. With higher visibility and the ability to quickly generate reports right within EnergyPrint's Utility Dashboard, property managers can easily prove the value of energy savings initiatives and engage their stakeholders or tenants. Additionally, clients can see how their buildings stack up to similar properties by tracking their ENERGY STAR rating trend graph right within the dashboard.
For more insight into benchmarking ordinance assistance, visit EnergyPrint.com/benchmarkingordinances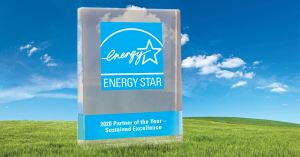 About ENERGY STAR
ENERGY STAR® is the government-backed symbol for energy efficiency, providing simple, credible, and unbiased information that consumers and businesses rely on to make well-informed decisions. Thousands of industrial, commercial, utility, state, and local organizations—including more than 40 percent of the Fortune 500 companies—rely on their partnership with EPA to deliver cost-saving energy efficiency solutions. Since 1992, ENERGY STAR and its thousands of partners helped American families and businesses save more than 4 trillion kilowatt-hours of electricity and achieve over 3.5 billion metric tons of greenhouse gas reductions. In 2018 alone, ENERGY STAR and its partners helped Americans avoid nearly $35 billion in energy costs. More background information about ENERGY STAR can be found at: energystar.gov/about and energystar.gov/numbers.